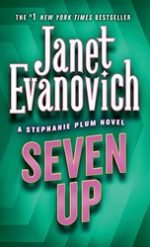 Seven Up
by Janet Evanovich
Rating: 4.7 #ad
Semiretired mob guy Eddie DeCooch is caught trafficking contraband cigarettes through Trenton, New Jersey. When DeCooch fails to show for a court appearance, bond enforcement agent Stephanie Plum is assigned the task of finding him and dragging his decrepit ass back to jail. Not such an easy job, it turns out, since DeCooch has learned a lot of tricks over the years and isn't afraid to use his gun. He's already shot Loretta Ricci, an innocent old lady, and left her for worm food in his shed. He wouldn't mind shooting Stephanie next.
Check out:
(Stephanie Plum Mysteries)
---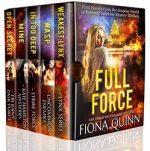 Full Force
by Fiona Quinn
Rating: 4.6 #ad
Full Force is a sampler set that includes the first novel from each of the first five Iniquus series. Enjoy! Welcome to Iniquus Security… …where ex-special forces live, work, and love in a world of action adventure. You'll meet a cast of characters who will stay with you for life, as they move from one adventure to the next. Each book is part of a larger series. All of them intertwine. The deeper you get, the more you'll fall in love with these stories, brimming with thrills, suspense, and action. With just the right mix of romance, and psychic twists, you'll keep turning the pages to see what happens next.
---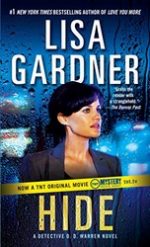 Hide
by Lisa Gardner
Rating: 4.7 #ad
You have good reason to be afraid. . . .
It was a case that haunts Bobby Dodge to this day—the case that nearly killed him and changed his life forever. Now, in an underground chamber on the grounds of an abandoned Massachusetts mental hospital, the gruesome discovery of six mummified corpses resurrects his worst nightmare: the return of a killer he thought dead and buried. There's no place to run. . . . Bobby's only lead is wrapped around a dead woman's neck. Annabelle Granger has been in hiding for as long as she can remember. Her childhood was a blur of new cities and assumed identities.
Check out:
(D.D. Warren Mysteries)
---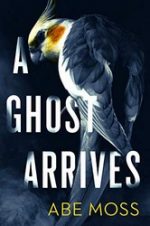 A Ghost Arrives
by Abe Moss
Rating: 4.3 #ad
After moving back in with his elderly father, Wallace Harper discovers that something else has taken up residence in his childhood home…
Something that only shows its face after the sun goes down. What starts as an eerie game of phantom footsteps and voices in the dark soon turns sinister as Wallace finds himself ensnared in a violent plot of family secrets and deep wounds that never healed.
---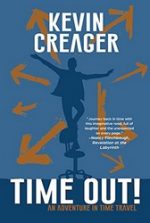 Time Out!
by Kevin Creager
Rating: 4.3 #ad
"Journey back in time with this imaginative read, full of laughter and the unexpected on every page." –Nancy Flinchbaugh, Revelation at the Labyrinth
"If I knew then what I know now."
Wally Stephens' tenth year high-school reunion is looming, but he's not where he hoped to be. No significant accomplishments, no love life, no future goals. Suddenly, he has the opportunity to take a time-out and go back in time six years. Romance with the woman of his dreams begins to appear possible, but first he has to deal with the humorous complications of being out of his time, as well as facing a mysterious man threatening the lives of those he has come to know.
---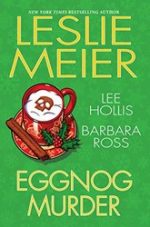 Eggnog Murder
by Leslie Meier
Rating: 4.5
With the fireplace crackling, the tree twinkling, and the carols humming, few things in life are as picture perfect as Christmas in Maine–until murder dampens the holiday spirit. It must be something in the eggnog…
Eggnog Murder by Leslie Meier: When a gift-wrapped bottle of eggnog–allegedly from the Real Beard Santa Club–proves to be a killer concoction for a Tinker's Cove local, all Lucy Stone wants for Christmas is to find the murdering mixologist who's stirring up trouble. Also includes these novellas: Death By Eggnog by Lee Hollis, Nogged Off by Barbara Ross.
---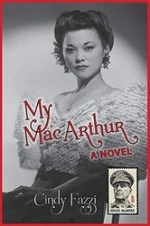 My MacArthur
by Cindy Fazzi
Rating: 4.1 #ad
The year is 1930. The place: Manila. Douglas MacArthur is the most powerful man in the Philippines, a United States colony. He's fifty years old, divorced, and he falls in love at first sight with a ravishing young Filipino woman. He writes her a love note on the spot. Her name is Isabel Rosario Cooper, an aspiring movie actress. One glance at his note and she thinks of him as my MacArthur.
MacArthur pursues his romantic obsession even though he's breaking numerous taboos. She reciprocates his affection because he could open doors for her financially struggling family. That MacArthur happens to be handsome compensates for the fact that he's as old as her father.
---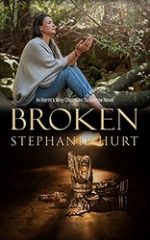 Broken
by Stephanie Hurt
Rating: 5.0 #ad
Abusive husband… Old love… Tested Faith…
Harper… Harper was trapped in a nightmare. Every morning she woke expecting it to be her last. How could she have married a monster? The only light in her dark world is the faith that she holds close to her heart.
Reid… Reid has struggled for years to forget the one woman that was everything to him. While doing rounds at the hospital, he comes face to face with her. He sees the truth to her injuries, but she quickly denies them, leaving the hospital before he can convince her to get help. Now he can't get her out of his head. She's in trouble and he needs to help her.
---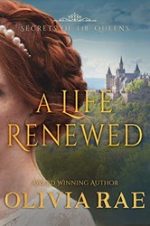 A Life Renewed
by Olivia Rae
Rating: 4.6 #ad
In 1554, Lady Jane Grey, "The Nine Days' Queen" was executed for high treason. But what if, instead of feeling the blade on her neck she secretly survived?
Escaping execution, Lady Jane hides as a peasant girl in a principality in Germany. She loves the simple life and never wants to return to England. But her benefactor, a power-hungry German prince, wants to march on London and place her on the English throne again, thereby increasing his dominance in Europe. If she doesn't agree with his plan, her beloved childhood nurse will be put to death. Desperate for help, Jane must put her trust in the mysterious spy Asher Hayes…
"Plunge into this dramatic tale and experience the danger and surprises unveiled in this first book in the Secrets of the Queens series." – M. Hake