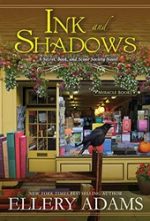 Ink and Shadows
by Ellery Adams
Rating: 4.6 #ad
Nora Pennington is known for her window displays, and as Halloween approaches, she decides to showcase fictional heroines like Roald Dahl's Matilda and Madeline Miller's Circe. A family-values group disapproves of the magical themes, though, and wastes no time launching a modern-day witch hunt. Suddenly, former friends and customers are targeting not only Nora and Miracle Books, but a new shopkeeper, Celeste, who's been selling CBD oil products…
Check out:
(A Secret, Book, and Scone Society Mysteries)
---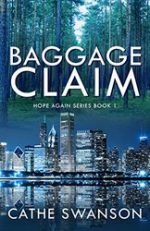 Baggage Claim
by Cathe Swanson
Rating: 4.7 #ad
He'll do anything to protect the family he recently discovered—and the woman charged with caring for them.
The last thing Jonah Campbell expected was a son and four grandkids to come out of the woodwork–the results of a teenage fling nearly thirty years ago. He lives isolated in the upper peninsula, and when his newly discovered son explains why his family needs to be hidden, Jonah is happy to open his home and get to know his grandkids.
Between college, his kids, and his job, Ben Taylor is already in way over his head.
Check out:
(Hope Again Mysteries)

---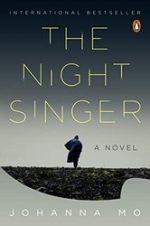 The Night Singer
by Johanna Mo
Rating: 4.2 #ad
The scars from a family tragedy draw an estranged police detective back to her childhood home as a teenage boy's death quickly causes the past to collide with the present.
Police detective Hannah Duncker didn't expect to return to her native Öland. She fled after her father's murder conviction and returns to make peace with her shame. She has a new job with the local police and a nosy new partner. A fifteen-year-old's death catapults her into a murder investigation that resurrects ghosts from her previous life. As she hunts for the truth, she must confront the people she abandoned. Not all are pleased to see her back home, and she soon learns that digging through the past comes with consequences.
---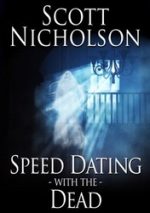 Speed Dating with the Dead
by Scott Nicholson
Rating: 3.9 #ad
For fans of Stephen King, Joe Hill, and James Herbert. A paranormal conference at the most haunted hotel in the Blue Ridge Mountains goes haywire when ghost hunters accidentally stir up demons.
SPEED DATING WITH THE DEAD
When Digger Wilson brings his paranormal team Spirit Seekers International to the White Horse Inn, he is skeptical that his dead wife will keep her half of the bargain. He doesn't believe in ghosts, and just before she died, she promised to meet him there.
But when one of the conference guests channels a mysterious presence and an Ouija board spells out a pet phrase known only to Digger and his wife, his convictions are challenged.
---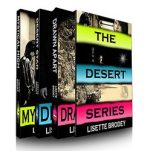 THE DESERT SERIES
by Lisette Brodey
Rating: 5.0 #ad
It all began in a dying desert town when the past came back to haunt the present.
The Desert Series, a YA paranormal trilogy, takes place over a span of six years in a town called Mystekal in the Southern California desert.
Book 1, Mystical High
Book 2, Desert Star
Book 3, Drawn Apart
"Unbelievable series of books to read. The author does the most amazing job of creating a story and weaving twists and turns throughout. She has a crazy talented ability to not just hold your interest but to make you keep reading and reading..!" by Amazon Customer
---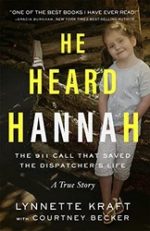 He Heard Hannah
by Lynnette Kraft, Courtney Becker
Rating: 5.0 #ad
Lynnette Kraft hoped she'd had her share of suffering with the death of two infant sons and a complicated congenital diagnosis for her daughter, Anna. But six years later, Anna, too, is called home, and Lynnette is, once more, thrust into a world of grief, wondering if she'll ever be able to reconcile God's purpose in her heartache. When she receives a
n unexpected letter from Courtney Becker, the 911 dispatcher who took the call that fateful morning, Lynnette is given a chance to see, firsthand, the transformative power of suffering. A divinely orchestrated tale of trial and perseverance—hopelessness and restoration.
---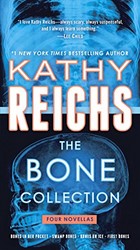 The Bone Collection: Four Novellas
by Kathy Reichs
Rating: 4.6 #ad
In First Bones, a prequel to Reichs's first novel, Déjà Dead, she at last reveals the tale of how Tempe became a forensic anthropologist. In this never-before-published story, Tempe recalls the case that lured her from a promising career in academia into the grim but addictive world of criminal investigation. (It all began with a visit from a pair of detectives—and a John Doe recovered from an arson scene in a trailer.) The collection is rounded out with three more stories that take Tempe from the low country of the Florida Everglades, where she makes a grisly discovery in the stomach of an eighteen-foot Burmese python, to the heights of Mount Everest, where a frozen corpse is unearthed. No matter where she goes, Tempe's cases make for the most gripping reading.)
---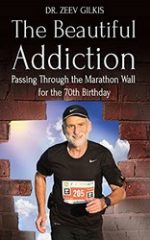 The Beautiful Addiction
by Dr. Zeev Gilkis
Rating: 4.7 #ad
It's never too late to make dreams come true – even at the age of 70. At the age of 68 Dr. Zeev Gilkis, a cancer survivor, decided to gift himself an unusual present for his 70th birthday – to run his first full marathon.
In his previous book "Running Back in Time" the author, writing at the time at age 69, told the story of the first half of his journey. Beginning with two injuries and 5 km runs and ending with achieving his interim goal of running a half-marathon.