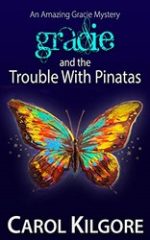 Gracie and the Trouble with Pinatas
by Carol Kilgore
Rating: 4.4 #ad
What you see is not always what you get. In fact, what you see may be nothing at all.
Finding a woman attacked and left for dead in her driveway hadn't been anywhere near San Antonio law enforcement consultant Gracie Hofner's cold January plans. She immediately jumps into action and soon discovers a link to what appears to be a benign local research institution. Of course, what seems to be often isn't, and it takes a series of explosive illusions that rock a small slice of the city before Gracie and her coworkers understand the fuller picture: a rogue relationship between the research group and a corrupt faction inside the Pentagon. The shadow elements responsible for the explosions must be stopped before illusion becomes reality and mind-created objects become real and tangible… and deadly.
Check out:
(Amazing Gracie Mysteries)
---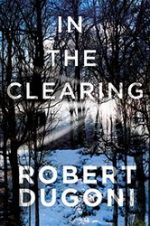 In the Clearing
by Robert Dugoni
Rating: 4.6 #ad
The gripping third book in the internationally acclaimed series by New York Times bestselling author Robert Dugoni.
Detective Tracy Crosswhite has a skill, and a soft spot, for tackling unsolved crimes. Having lost her own sister to murder at a young age, Tracy has dedicated her career to bringing justice and closure to the families and friends of victims of crime.
So when Jenny, a former police academy classmate and protégé, asks Tracy to help solve a cold case that involves the suspicious suicide of a Native American high school girl forty years earlier, Tracy agrees.
Check out:
(Tracy Crosswhite Mysteries)
---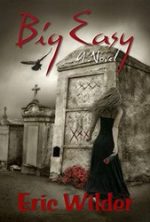 Big Easy
by Eric Wilder
Rating: 4.4 #ad
Forget it Wyatt, it's the Big Easy. When an influential former U.S. senator from New Orleans begins killing French Quarter derelicts, dynamic paranormal investigator Wyatt Thomas finds he must deal with murder by voodoo. Big Easy is Book 1 of Eric Wilder's intoxicating French Quarter Mystery Series set in that 'exotic, erotic Mecca known as New Orleans."
Big Easy introduces Wyatt Thomas, elite alpha male private detective with a strong, forceful and sensual personality. The dark and compelling mystery thriller is Book 1 of the fast-paced, gripping and addictive French Quarter Mystery Series populated by irresistible and often humorous characters, thrilling action, and dark and explosive stories.
Check out:
(French Quarter Mysteries)
---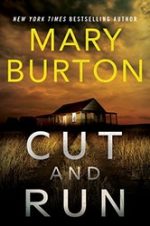 Cut and Run
by Mary Burton
Rating: 4.5 #ad
Twin sisters separated by the past are reunited by unspeakable crimes in New York Times bestselling author Mary Burton's throat-clutching novel of suspense…
Trauma victims are not new to medical examiner Faith McIntyre, but this one is different. The unconscious woman clinging to life after a hit and run is FBI agent Macy Crow. What the woman from Quantico was doing in a dark alley after midnight is just one mystery. The other is more unsettling: Macy is Faith's mirror image—the twin sister she never knew she had.
Faith knew that she was adopted, but now she's finding that her childhood concealed other secrets.
Check out:
(Criminal Profiler Mysteries)
---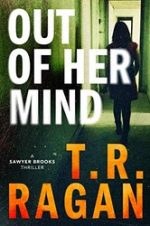 Out of Her Mind
by T.R. Ragan
Rating: 4.6 #ad
Crime reporter Sawyer Brooks still grieves for the family she and her two sisters never had. Raised in a house of horrors, they continue to fight through the trauma – releasing their rage by seeking justice for those who are just as vulnerable as they were.
When a little girl's bones are unearthed in Sacramento's Land Park and twelve-year-old Riley Addison disappears, solving these cases becomes an obsession for Sawyer – one that puts her job at risk. Yet she can't turn back, and the deeper Sawyer's investigation goes, the darker it gets. A psychopath is on the loose and has been trolling Sacramento for years – hiding in plain sight behind a motherly facade.
Check out:
(Sawyer Mysteries)
---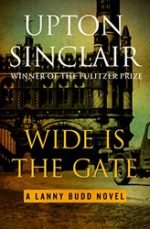 Wide Is the Gate
by Upton Sinclair
Rating: 4.6 #ad
Upton Sinclair's Pulitzer Prize–winning saga continues as Lanny Budd faces the horrors of Nazi Germany and steps into the fire of the Spanish Civil War
Lanny Budd's dedication to social justice and political action has placed a serious strain on his marriage to his heiress wife, Irma, but as he moves through the 1930s, the international art dealer is unable to turn a blind eye to what is happening in Europe. As the Nazi Party solidifies its power in Germany, Lanny recognizes a golden opportunity to make a difference when his arms dealer father strikes a business agreement with Hermann Göring, Adolf Hitler's second-in-command.
Check out:
(The Lanny Budd Mysteries)
---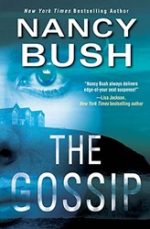 The Gossip
by Nancy Bush
Rating: 4.3 #ad
Every word you whisper In high school, rumors can make or destroy a reputation. A thoughtless nickname can turn each day into a living hell. Gossip is irresistible—and contagious. But sometimes, gossip can kill . . .
Every secret you share Mackenzie Laughlin, formerly with Oregon's River Glen police department, has reluctantly agreed to investigate a local woman's disappearance. The case reconnects her with Jesse James Taft, a P.I. gifted at getting under Mac's skin. But when the body is found tangled in river weeds, Mac and Taft realize that the case has changed, from one missing woman to a hunt for a terrifying and relentless killer . . .
Check out:
(River Glen Mysteries)