Saturday's Mystery eBooks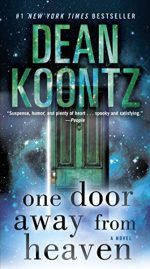 One Door Away from Heaven
by Dean Koontz
Rating: 4.6 #ad
This ebook edition contains a special preview of Dean Koontz's The Silent Corner.
Hailed as "America's most popular suspense novelist" (Rolling Stone) Dean Koontz has entered a rich new phase of his writing career that is yielding his most imaginative, meaningful, and popular work yet.
At the height of his powers as a literary craftsman, he has won the acclaim of critics as well as the allegiance of millions of fans the world over, transforming the greatest fears and hopes of our time into masterworks of dazzling originality and emotional resonance…
---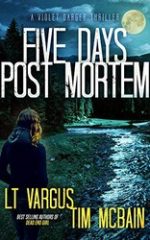 Five Days Post Mortem
by L.T. Vargus, Tim McBain
Rating: 4.4 #ad
Her body floats. A bloated thing half atop the river. Naked. Pale. Mouth and eyes open wide.
When two fishermen discover a corpse floating in the Clackamas river, profiler Violet Darger heads to rural Oregon to hunt another serial killer. What she discovers in the woods might change the course of her life.
What secrets does the water conceal? The girl in the water marks the third such case in the area — all drowned with superficial stab wounds and discovered in a body of water — and Darger feels certain she won't be the last.
Check out:
(Violet Darger FBI Mysteries)
---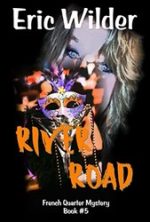 River Road
by Eric Wilder
Rating: 4.4 #ad
French Quarter paranormal investigator Wyatt Thomas meets a new client at an bizarre death ceremony in a revamped Canal Street movie theater. The man gives Wyatt a bag of cash and a single clue: a solid gold Krewe of Rex, 1948 Mardi Gras doubloon. His only request is for Wyatt to find the person or persons who murdered his mother.
The case isn't simply cold, it's 50-years old. When his client is shot dead on the way out the door, Wyatt must go into hiding, solve both murders, or suffer the same fate.
Check out:
(French Quarter Mysteries)
---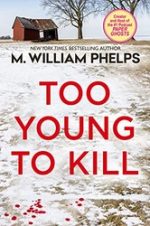 Too Young to Kill
by M. William Phelps
Rating: 4.4 #ad
Sixteen-year-old Adrianne Reynolds couldn't unravel the twisted tangles of jealousy and domination complicating her new life in East Moline, Illinois. What began as a fresh start after a troubled home life in Texas ended with Adrianne's body charred, stuffed into garbage bags, and scattered. It seemed the work of hardened criminals, but the truth was far more astonishing: her own "best friends" choked Adrianne to death and cut her up. Now, master crime writer M. William Phelps recounts this horrific saga of teen lust and violence in every gripping detail.
---

Brandon Hall Mysteries
by John Theo Jr.
Rating: 5.0 #ad
Brandon Hall is drawn back into his previous life as a private investigator with an explosive first case!
Murder at Cluster Springs Raceway –
Virginia Senator Gregory Schilling's son died in a fiery crash on a racetrack. But was it an accident? Or murder?
Only Brandon Hall can figure this one out. But he's still recovering from the death of his 2 year old son at the hands of a drunk driver. Will he learn to rely on God to get him through his grief while trying to find justice for a young race car driver?
The Dismal Swamp
Beneath DC
Adrenochrome
---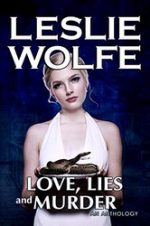 Love, Lies and Murder
by Leslie Wolfe
Rating: 4.4 #ad
Breathtaking suspense unraveling at train-wreck speed, in an unforgettable collection. Sometimes the only way to do the right thing is to break the rules.
Love, Lies, and Murder is a collection of 19 short stories that explore the extremes of human emotion and the conflicts that result. Every story will leave you tense and breathless as the characters race to a conclusion that is as unexpected as it is satisfying.
Intense and gripping, each story features a hero that seeks justice and the triumph of good over evil by whatever means necessary—regardless of what society's rules find acceptable.
---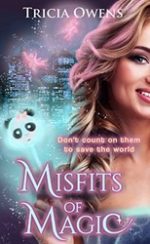 Misfits of Magic
by Tricia Owens
Rating: 5.0 #ad
They're the Other Guys. Not cool, mediocre at magic, and absolutely clueless.
Forming a rock band sounded fun to Kenzie and her friends, but there are two pretty big problems with the idea: 1) they don't know how to play their instruments and 2) every time they perform, they accidentally unleash weird dark magic upon their city. Even worse, the police think they're responsible. As if they could ever be responsible!
On the plus side, they have Kenzie, their oblivious but well-meaning fairy princess lead singer, along with three disgraced detectives who know nothing about magic. On the downside, they're all incompetent.