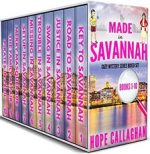 Made in Savannah Mysteries Box Set
by Hope Callaghan
Rating: 4.3 #ad
After the mysterious death of her mafia "made man" husband, Carlita Garlucci makes a shocking discovery. Follow the Garlucci family saga as Carlita and her daughter try to escape their NY mob ties and make a fresh start in Savannah, Georgia. They soon realize you can run but can't hide from your past.
Treat yourself to this deluxe box set featuring the first 10 novels from bestselling author Hope Callaghan's "Made in Savannah Mystery Series."
1-Key to Savannah; 2-Road to Savannah; 3-Justice in Savannah;
4-Swag in Savannah; 5-Trouble in Savannah; 6-Missing in Savannah
7-Setup in Savannah; 8-Merry Masquerade; 9-The Family Affair
10-Pirates in Peril
BONUS: RECIPES INCLUDED!
---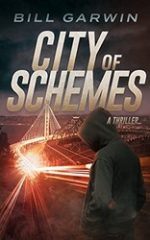 City of Schemes
by Bill Garwin
Rating: 3.9 #ad
"… high-octane adventure with nonstop twists and turns … City of Schemes is just the ticket for a thoroughly engrossing read." – Midwest Book Review
The year is 2028 and the Feds have appropriated Northern California for the Great Experiment. They designate it "Norcal" and create satellite-enforced borders to protect the clinical purity of society's most ambitious scientific and social advancements. Megan Garrity and her 13-year-old autistic son Nick, cannot resist the trafficker's offer to be smuggled into Norcal. Megan will be given a new life, programs for Nick she never imagined possible. The dream becomes a nightmare. Norcal is a failed experiment co-opted by a corrupt kingpin armed with a hitman and a hacker employing the tremendous power of the Grid, internet taken to a never-before-seen level.
---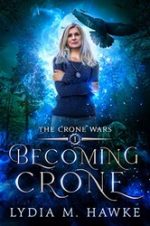 Becoming Crone
by Lydia M. Hawke
Rating: 4.5 #ad
She wanted purpose. She got dark magic and war. Claire Emerson is adrift. After a lifetime as a wife, mother, and grandma, she never saw divorce or loneliness coming and is desperate for some sense of purpose. But when her sixtieth birthday brings a snarky gargoyle, an annoyingly sexy wolf shifter, and an unknown magical calling, she thinks she's losing the only thing she has left: her sanity.
Refusing to believe she's the powerful defender of humankind her so-called protectors claim, Claire attempts a return to her safe life… only to have her powers ignite when she's attacked by dark supernatural creatures. And without the training she was supposed to have received, she has no idea how she'll defeat sinister mages plotting her demise.
Check out:
(The Crone Wars Mysteries)
---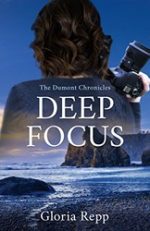 Deep Focus
by Gloria Repp
Rating: 4.5 #ad
A scheming woman. A man she can't fathom. A mystery that endangers her career. Is this how God answers Lindsey's prayers?
Lindsey Dumont, photographer, travels to the rugged coast of Washington's Olympic Peninsula to finish her photo essay on a rare breed of Makah dogs. But disaster looms for her project, and she decides to fight back. Now she must confront the man who deceived her and unravel a threatening mystery.
Check out:
(The Dumont Chronicles)
---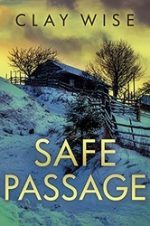 Safe Passage
by Clay Wise
Rating: 4.3 #ad
When an EMP decimates the United States, Lori, a former Marine Raider, must embark on a treacherous journey with her daughter across the former United States from Pennsylvania to a rumored sanctuary in Washington State.
"Excellent characterization and intriguing story line. Definitely makes me want to read more of this series. Author put in some upfront research for the depth of activities indicated within the story." by Amazon Customer
---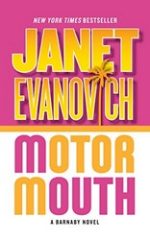 Motor Mouth
by Janet Evanovich
Rating: 4.4 #ad
Alexandra Barnaby, mechanic extraordinaire. Sam Hooker, a sexy race car driver who can rev any woman's engine. Barnaby's wacky brother, Wild Bill, who's always in trouble. The outrageous Cuban cigar-rolling women, sure to provide comic relief. They're fabulous characters, they're still hanging out in sunny Florida, and they're off on another crazy adventure, in the super-duper, stupendous, magnifico sequel to Metro Girl.
Check out:
(Metro Girl)
---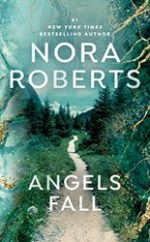 Angels Fall
by Nora Roberts
Rating: 4.6 #ad
The sole survivor of a brutal crime back East, Reece Gilmore settles in Angel's Fall, Wyoming—temporarily, at least—and takes a job at a local diner. One day, while hiking in the mountains, she peers through her binoculars and sees a couple arguing on the bank of the churning Snake River. And suddenly, the man is on top of the woman, his hands around her throat…
By the time Reece reaches a gruff loner named Brody farther down the trail, the pair is gone. And when authorities comb the area where she saw the attack, they find no trace that anyone was even there.
---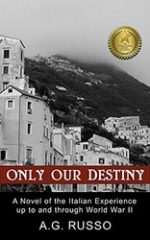 ONLY OUR DESTINY
by A.G. Russo
Rating: 4.4 #ad
The Mezzogiorno (Southern Italy). Up to 85 per cent of Italian Americans have their roots in this region. The story of the Coriello family begins in the fictional fishing village of Punto Roccioso along the Amalfi Coast. Alta Italia (Northern Italy) looks down on their southern countrymen as uneducated peasants. With limited opportunities available, many southern Italians dream of escaping poverty by leaving the land they love for a better life in America. But like all dreams, hardships, sacrifices, and realities intrude.
Having lived through World War I, the Spanish Flu, the dictatorship of Benito Mussolini, and racial laws, Raffaela must raise and feed her ten children without any help from her estranged abusive husband Giuseppe, who refuses to give her money. With the support of her two oldest children, Geno, and Luisa, she struggles to survive. World War II devastates Italy and Italian Americans alike when "Il Duce" joins Hitler's side, leaving Italians vulnerable at home and the object of hatred abroad. Young Italians are sent around the world to fight in a war they don't believe in. At home Jewish families are under increasing threat. Yet, Italian men and women rebound to fight the Germans and Italian Fascists with a large and fervent partisan guerilla army.
---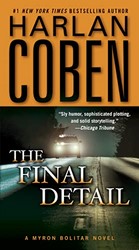 The Final Detail
by Harlan Coben
Rating: 4.5 #ad
Myron Bolitar's colleague at MB SportsReps, Esperanza, has been arrested for the murder of a client, a fallen baseball star attempting a comeback. Myron is determined to prove Esperanza's innocence—even if she won't speak to him on the advice of her lawyer, who warns Myron to keep away from both the case and his client. But Myron is already too close, too involved, and has too much at stake. And the closer Myron gets to the truth, the more the evidence points to the only viable suspect besides Esperanza: Myron himself.
Check out:
(Myron Bolitar Mysteries)
---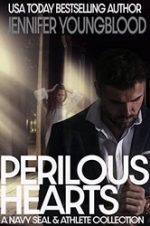 Perilous Hearts Collection
by Jennifer Youngblood
Rating: 4.5 #ad
Enjoy this fast-paced, action-packed romance collection by USA Today Bestselling Author Jennifer Youngblood featuring tough Navy SEALs and fearless athletes.
The stakes get high when the heart is on the line. Love can be a dangerous game.
The set includes:
The Reckless Warrior; The Diehard Warrior;
The Stormy Warrior; The Impossible Groom;
The Hot-Headed Patriot