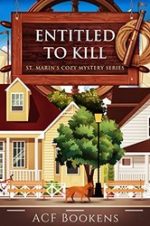 Entitled To Kill
by ACF Bookens
Rating: 4.5 #ad
Mother-daughter bonding time shouldn't involve running from a big tractor.
When Harvey Beckett stumbles upon the body of the community's most reviled dairy farmer, she, her friends, and her parents are launched into an investigation that reveals a family secret that wasn't really that secret after all. Soon, Harvey's curiosity lands her and her mother in a heap of danger that may mark the end of her sleuthing
Check out:
(St. Marin's Cozy Mysteries)
---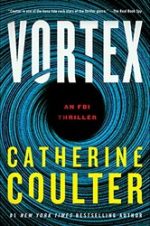 Vortex
by Catherine Coulter
Rating: 4.7 #ad
Catherine Coulter returns with a brilliant new novel in her FBI thriller series, in which agents Sherlock and Savich find themselves dealing with very powerful figures from the past who could wreak havoc in the present.
Seven years ago, Mia Briscoe was at a college frat rave with her best friend, Serena, when a fire broke out. Everyone was accounted for except Serena, who was never seen nor heard from again. Now an investigative journalist covering the political scene in New York City, Mia discovers old photos taken the night of Serena's disappearance and begins to uncover a sinister string of events going all the way back to that disastrous party. Working with Sherlock, the secrets begin to unravel. But some very powerful—and very dangerous—people will do anything to keep them from learning the truth.
Check out:
(An FBI Thriller)
---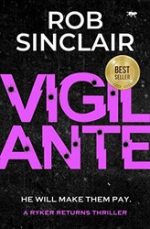 Vigilante
by Rob Sinclair
Rating: 4.2 #ad
James Ryker thought he'd gotten the gangsters out of the Norwegian town of Blodstein, so when he hears of a wave of murders, it gets his attention. Then he discovers that an unidentified teenager has been found dead in Crete, and the description of the victim raises an alarm – could the boy be Henrik Svenson, who Ryker had once rescued in Blodstein?
To get some answers, Ryker heads for Athens – and meets the seductive but duplicitous Eleni. Soon the search begins for a known associate of the elusive Eastern European drug kingpin known only as Jesper. But just as it looks like he's about to get a break in the case, Ryker finds himself in jail for murder.
Check out:
(The Ryker Returns Mysteries)
---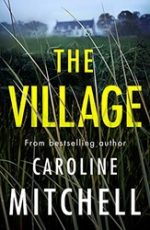 The Village
by Caroline Mitchell
Rating: 4.2 #ad
From the bestselling author of the DI Amy Winter series comes a thriller about a shocking disappearance—and the village that has conspired to keep the truth buried.
Ten years ago, the Harper family disappeared. Their deserted cottage was left with the water running, the television playing cartoons, the oven ready for baking. The doors were locked from the inside.
Overnight, the sleepy village of Nighbrook became notorious as the scene of the unsolved mystery of the decade, an epicentre for ghoulish media speculation.
---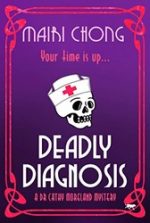 Deadly Diagnosis
by Mairi Chong
Rating: 4.1 #ad
A dying patient's mysterious warning sends a doctor to follow a trail of murder in a new novel by the author of Death by Appointment.
As Betty Scott is dying, she warns Dr. Cathy Moreland that danger lurks at the charity shop where she volunteers. But the only clue she provides is a reference to the now-derelict psychiatric hospital called Fernibanks. Then Betty is found dead—but not from natural causes—and Cathy is compelled to investigate.
At the charity shop, Cathy encounters several workers, some of whom raise her suspicions.
Check out:
(The Dr. Cathy Moreland Mysteries)
---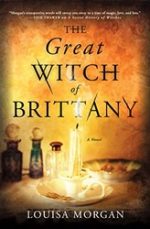 The Great Witch of Brittany
by Louisa Morgan
Rating: 4.7 #ad
There hasn't been a witch born in the Orchière clan for generations. According to the elders, that line is dead, leaving the clan vulnerable to the whims of superstitious villagers and the prejudices of fearmongering bishops.
Ursule Orchière has been raised on stories of the great witches of the past. But the only magic she knows is the false spells her mother weaves over the gullible women who visit their fortune-telling caravan. Everything changes when Ursule comes of age and a spark of power flares to life. Thrilled to be chosen, she has no idea how magic will twist and shape her future.
---
Oh, Fudge!
by Nancy Coco
Rating: 4.6
After Allie inherited her family's McMurphy Hotel and Fudge Shop, cousin Tori moved off to California in a bitter huff, and the two haven't spoken since. So to have her cousin reappear on Mackinac Island without warning is a big surprise – but not as surprising as finding her standing over a dead woman impaled with a garden spade in the Mackinac Butterfly House. Butterflies may be free, but Tori won't be for much longer—unless the cousins can bury the hatchet and work together to catch a killer who's taken flight. Because when it comes to family, blood is thicker than fudge . . .
Check out:
(A Candy-coated Mysteries)