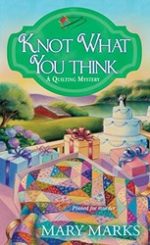 Knot What You Think
by Mary Marks
Rating: 4.7 #ad
The newest member of Martha's close-knit quilting circle has an eye for couture. But when the designer's fingerprints are found blanketing a crime scene, Martha must prove that he didn't have a hand in homicide . . .
Martha Rose is alarmed by the discovery of Dolleen Doyle's dead body, especially when evidence suggests a fellow quilter committed the crime. Set on clearing her pal, Martha searches for answers—but with ties to a convicted fraudster's stolen millions and a secret office room, the victim's past raises even more questions. As Martha inches towards the culprit, she learns that wrapping the case up—and living to baste another square—will be trickier than she ever imagined . . .
Check out:
(A Quilting Mysteries)
---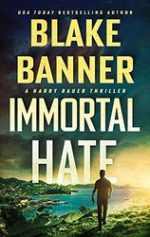 Immortal Hate
by Blake Banner
Rating: 4.7 #ad
Harry Bauer's job is to take out the trash. He works for Cobra, a secret agency that assassinates tyrants, cartel bosses – and other trash.
Colonel Kostas Marcović was one of the butchers of the Vukovar Hospital massacre. He was a mark like any other. Except that Marcović was hiding on St George Island in the Caribbean, where the Colombian cartel Bloque Meta was trying to open up a new path to Florida. And Harry had a big problem with drug cartels, a problem that threatened to pull the whole mission of track.
Check out:
(Harry Bauer Mysteries)
---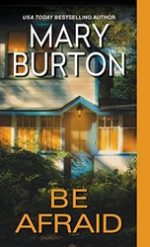 Be Afraid
by Mary Burton
Rating: 4.6 #ad
When police rescue five-year-old Jenna Thompson from the closet where she's been held captive for days, they tell her she's a lucky girl. Compared to the rest of her family, it's true. But twenty-five years later, even with their killer dead of an overdose, Jenna is still trying to find peace.
On leave from her forensic artist job, Jenna returns to Nashville, the city where she lost so much. But instead of closure, she finds a new horror. Detective Rick Morgan needs Jenna's expertise in identifying the skeletal remains of a young child. The case jogs hazy half-buried memories—and a nagging dread that Jenna's ordeal hasn't ended.
Check out:
(Morgans of Nashville Mysteries)
---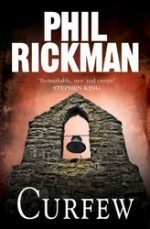 Curfew
by Phil Rickman
Rating: 4.6 #ad
In Crybbe, only strangers walk at twilight . . .
For 400 years, the curfew bell has tolled nightly from the church tower of the small country town, Crybbe's only defense against the evil rising unbidden in its haunted streets. Radio reporter Fay Morrison came to Crybbe because she had no choice. Millionaire music tycoon Max Goff came because there was nothing left to conquer, except the power of the spirit. But he knew nothing of the town's legacy of dark magic—and nobody felt like telling him.
---

Tinseltown
by William J. Mann
Rating: 4.3 #ad
The Day of the Locust meets The Devil in the White City and Midnight in the Garden of Good and Evil in this juicy, untold Hollywood story: an addictive true tale of ambition, scandal, intrigue, murder, and the creation of the modern film industry.
By 1920, the movies had suddenly become America's new favorite pastime, and one of the nation's largest industries. Never before had a medium possessed such power to influence. Yet Hollywood's glittering ascendency was threatened by a string of headline-grabbing tragedies—including the murder of William Desmond Taylor, the popular president of the Motion Picture Directors Association, a legendary crime that has remained unsolved until now…
---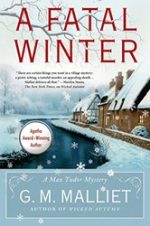 A Fatal Winter
by G. M. Malliet
Rating: 4.3 #ad
Anglican priest, former MI5 agent, and village heartthrob—investigates two deaths at Chedrow Castle. But his growing attraction to Awena Owen complicates his case, as does the recent arrival at Chedrow Castle of a raucous group of long-lost, greedy relatives, any one of whom has a motive for murder. With a cozy setting, intricate puzzles, and a handsome (non-celibate) priest doing the sleuthing, the books in this series are destined to become instant classics in the mystery world.
Check out:
(A Max Tudor Mysteries)
---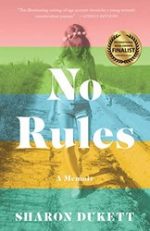 No Rules
by Sharon Dukett
Rating: 4.3 #ad
In this coming-of-age memoir, Sharon takes you with her on a nail-biting adventure through the early 1970s after leaving her sheltered home life at sixteen years old to join the hippies. Yearning for freedom, she lands in an adult world for which she is unprepared, and must learn quickly in order to survive.
As Sharon navigates the US and Canada—whether by hitchhiking, bicycle, or the back of a motorcycle—she experiences love and heartbreak, discovers who she can and cannot trust, and awakens to the Women's Liberation movement while living in a rural off-grid commune. In this colorful memoir, she reflects upon the changes that reshaped her during that decade, and how the ways in which she and her peers threw off the rules meant to keep women in their place has transformed and empowered the lives of girls and women today.
---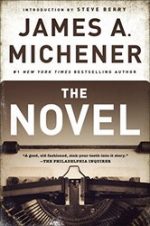 The Novel
by James A. Michener
Rating: 4.1 #ad
In this riveting, ambitious novel from James A. Michener, the renowned chronicler of epic history turns his extraordinary imagination to a world he knew better than anyone: the world of books. Lukas Yoder, a novelist who has enjoyed a long, successful career, has finished what he believes to be his final work. Then a tragedy strikes in his community, and he becomes obsessed with writing about it. Meanwhile, Yoder's editor fights to preserve her integrity—and her author—as her firm becomes the target of a corporate takeover; a local critic who teaches literature struggles with his ambitions and with his feelings about Yoder's success; and a devoted reader holds the key to solving the mystery that haunts Yoder's hometown.
BONUS: This edition includes an excerpt from James A. Michener's Hawaii.